Industry-specific storage systems
For the storage of aluminum and plastic, cantilever racks are the ideal storage solution for long goods of any shape, length or quality. With this racking system, aluminum and plastic profiles, PVC pipes and panels, downpipes, window frames, guttering and miscellaneous long goods can be stored and removed in a particularly space-saving manner.
A wide range of accessories like dividers for the separation of material in one storage level, or identification plates for the marking of stored material, helps to realize individual storage possibilities. The most economical and compact storage of voluminous or bulky goods on a small base area.
Effective warehouse systems by RBB Aluminium
---
Cantilever racks
The best storage system for; manufacturing facilities, raw materials or shipping warehouse. The flexible, height-adjustable cantilever arms move upwards and sideways on impact to avoid damage to your products. All cantilever racking is custom-manufactured, matching your stock requirements, delivered and installed on request. OHRA cantilever racking is durable and stable!
The robust hot-rolled steel profiles of the load-bearing elements of the cantilever racking provide secure storage of your products. The high quality of the columns and cantilever arms guarantee a long-lasting and economical solution for warehousing in industrial plants and processing centres. Definitely not sheet metal! OHRA cantilever racking is built for long-term use. The use of hot-rolled steel profiles instead of thin sheet metal allows high load capacities while maintaining a slim build-profile. Thus, a high storage capacity can be achieved with a minimal footprint.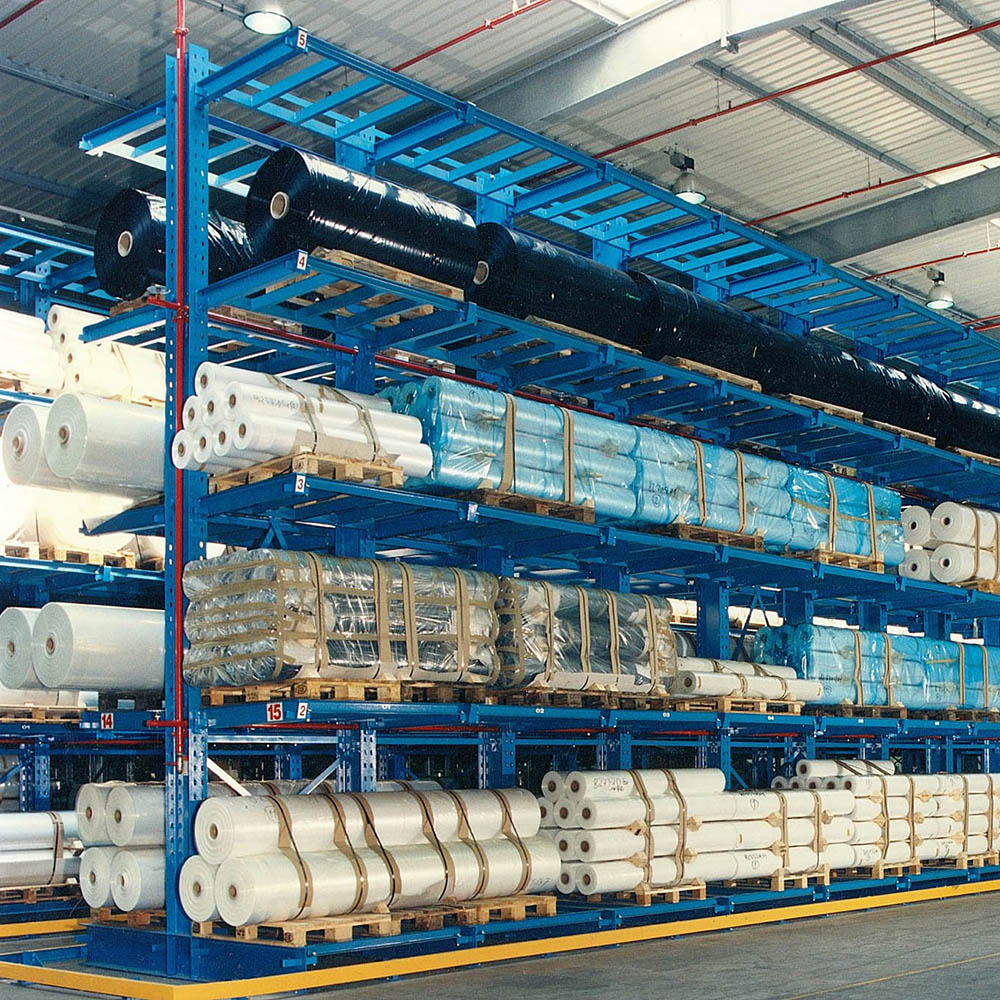 ---
Mobile rack systems
Conventional rack systems are mounted on traversing carriages, which are pushed together by means of rollers. For stock storage and retrieval, the required aisle is opened by an electronically controlled drive train.
---
Storage halls with roof and wall covering
In the construction of a new storage hall, the relationship of costs and benefit is critical. Storage halls from OHRA perfectly combine the necessary building functionality with the task of a conventional shelf system. Over 1000 implemented storage halls that pay off! OHRA storage halls with roof- and wall covering supersede self-contained building constructions. Our standardized Pallets and Cantilever systems serve as bearing elements depending on goods to be stored. Countless configuration variants render a 100% adjustment to your needs possible. We construct on turn-key basis: design, construction, statics for steel construction and foundation, manufacturing, delivery and installing. Thus, we help you to maintain the cost overview.
---
Storage platforms, shelving platforms
Optimal, efficient usage of the existing ceiling clearance. Storage platforms by OHRA are versatile for use in aluminium and plastic processing plants. Whether as additional storage space or as an assembly workstation, the self-supporting construction can be installed in any existing warehouse and adapted to the individual space layout. It is possible to take full advantage of the existing ceiling height. Combinations of storage platform and integrated racking system can be custom-fitted as desired thanks to the robust construction and modularity of the OHRA racking.