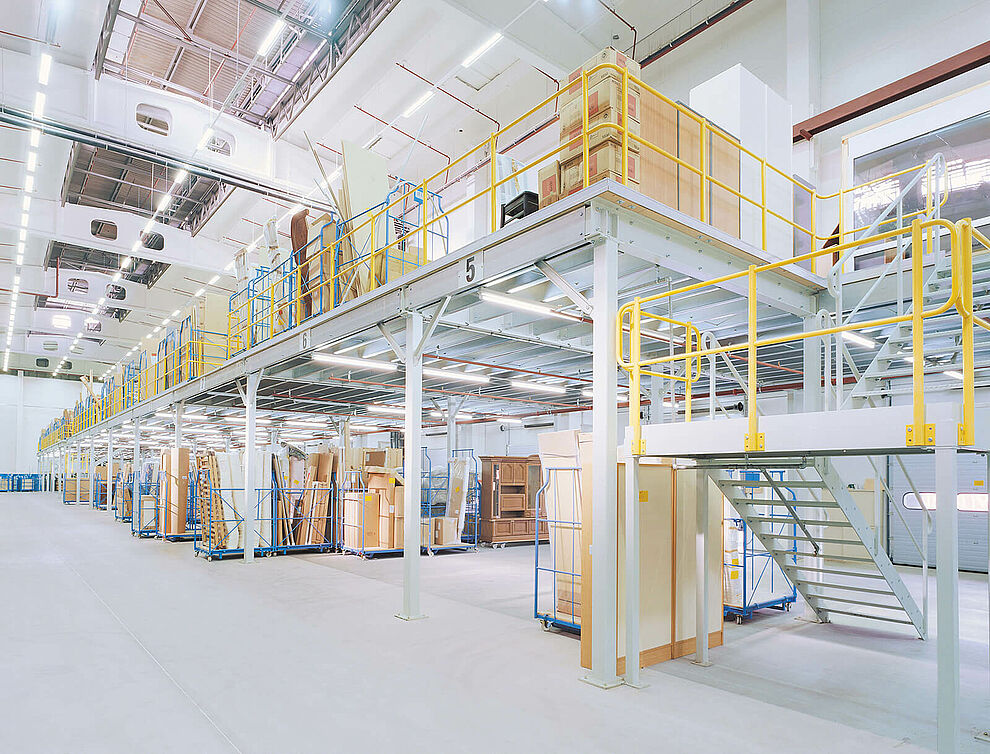 Mezzanine floors
Mezzanine floors by OHRA increase the existing storage area without the need of extensions or reconstruction measures. The additional floor space generated by the mezzanine floor can be cost-effectively and variedly used, e.g. as office area or workspace, as production or exhibition area or as an additional storage unit.
OHRA mezzanine floors as flexible storage extension
All OHRA mezzanine floors can be configured for a variety of requirements and loads, e.g. by means of different upright sections, beams and rafters (e.g. made of solid steel sections or optimised Sigma sections). Obstacles such as pipelines and power supply lines or windows and doors are taken into account. OHRA can easily design and build mezzanine floors with up to 5 levels. The centre-to-centre distance of the mezzanine uprights is between 3.5 and 8.5 m as standard. The bearing loads range between 250 and 2,000 kg/m². Greater centre-to-centre dimensions and bearing loads can be designed upon request. The mezzanine floors are completed by stairs with grating or wooden steps, screw-fixed bannisters, including hand rail and knee rail. Transfer stations in various designs and options are also available. The flooring material to be used on the mezzanine is plastic-coated chipboard panels or flooring with anti-skid coating.
OHRA mezzanine floors – your benefits
Optimisation of storage areas by storage in on two or more floors
Combination of storage and working place in one area
Strong steel sections ensure large span lengths below the mezzanine floor
Up to 5 levels and bearing loads of up to 2 t/m² can be realised
Economically optimised price-performance ratio
Different flooring designs available
Self-bearing structure
---