Mobile racking systems
In the industrial warehouse dynamic or mobile racking systems are modern solutions for a compact warehouse. Single racks are mounted on traversing carriages, which can be pushed together by means of rails and rollers. For the stock storage and retrieval the required aisle is opened by an electronically controlled drive train. The result is a substantial decrease of transport routes and an increase in area of up to 100% compared to fixed racks.
Compact storage on a small foot print
Modern racking system for a wide range of applications
High cost-efficiency and storage capacity thanks to optimal space utilization
Effortless rail-wheel-system for quiet and durable operation
Decrease of transport routes while simultaneously increasing the available storage area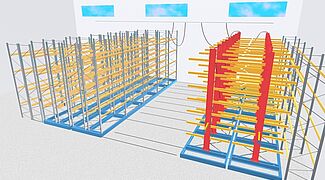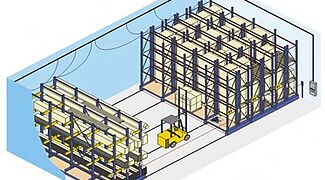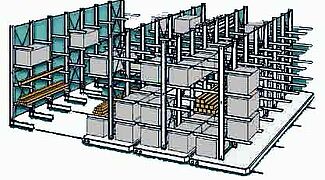 Videos
---
Mobile cantilever racks
Mobile cantilever racks allow for most efficient utilisation of space within your warehouse. Depending on the selected design, the storage capacity may be increased by up to 100%. Mobile racking is ideal for bulky storage goods with a low access frequency. For that purpose, the racks are mounted on traversing carriages, which may be designed up to 70 metres in length. The carriages can be moved apart either manually or by radio remote control so that the only required aisle is opened.
OHRA racking – movable on traversing carriages
The carriages for the movable racking are operated on rails, which have been previously installed in the floor. Retrospective installation of rails and carriages for your existing OHRA cantilever racking in the existing storage spaces is also possible. At the end of the working day, the racks are positioned into a "night position" so that unwanted access by forklift trucks is prevented. We attach equally great importance to reliable safety and tried standards for mobile racking as for our standard racking. The OHRA cantilever racking on traversing carriages comply with the provisions of Regulation BGR 234 of the German employers' liability association and the CE standards.
OHRA mobile racking – your benefits
Increase of storage capacity of up to 100%
Operation via radio remote control
Subsequent installation of rails in existing buildings is possible
Safety as per BGR 234 and CE
Request for proposal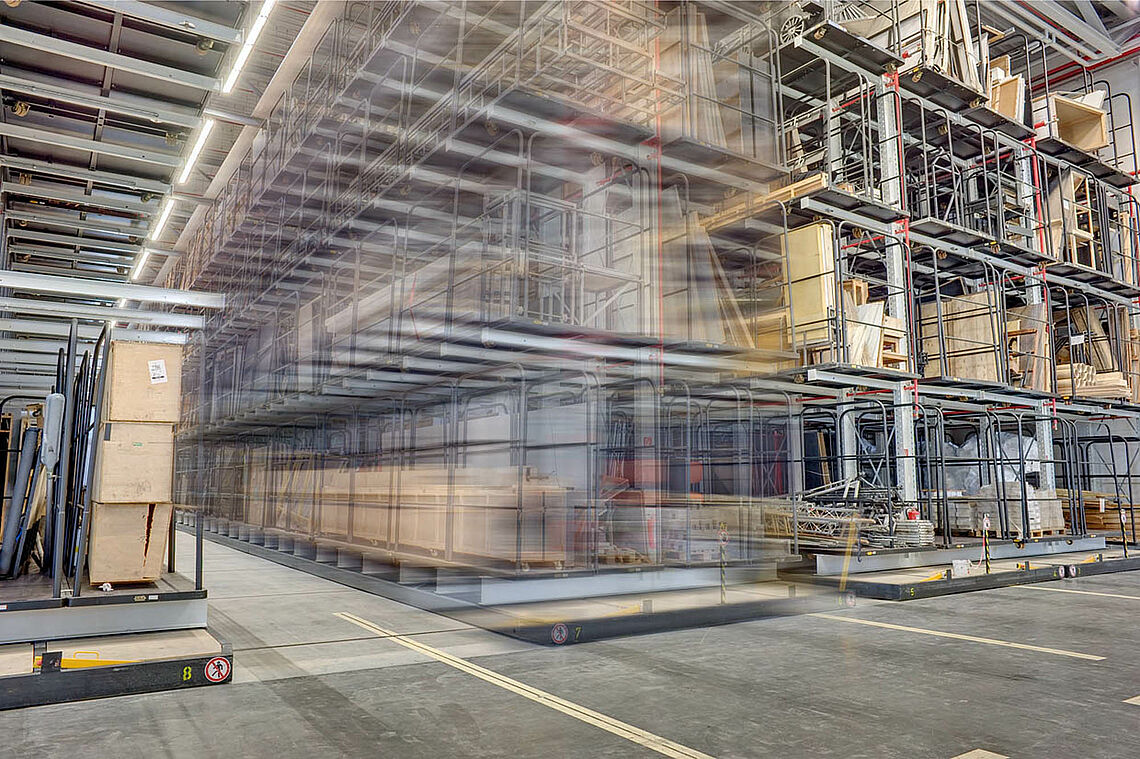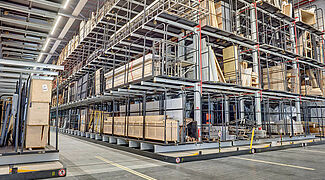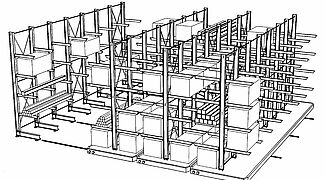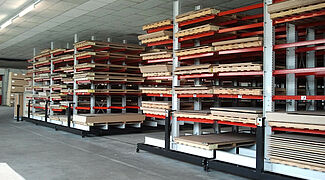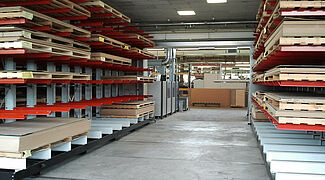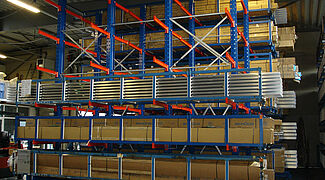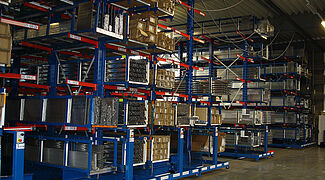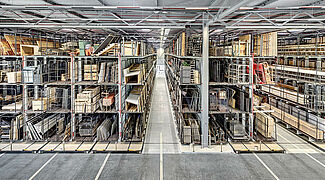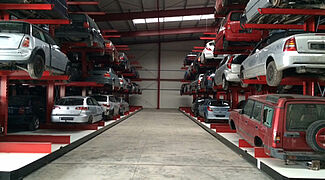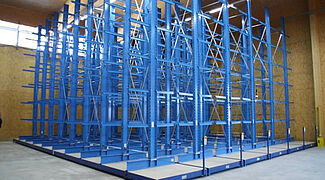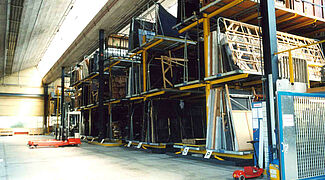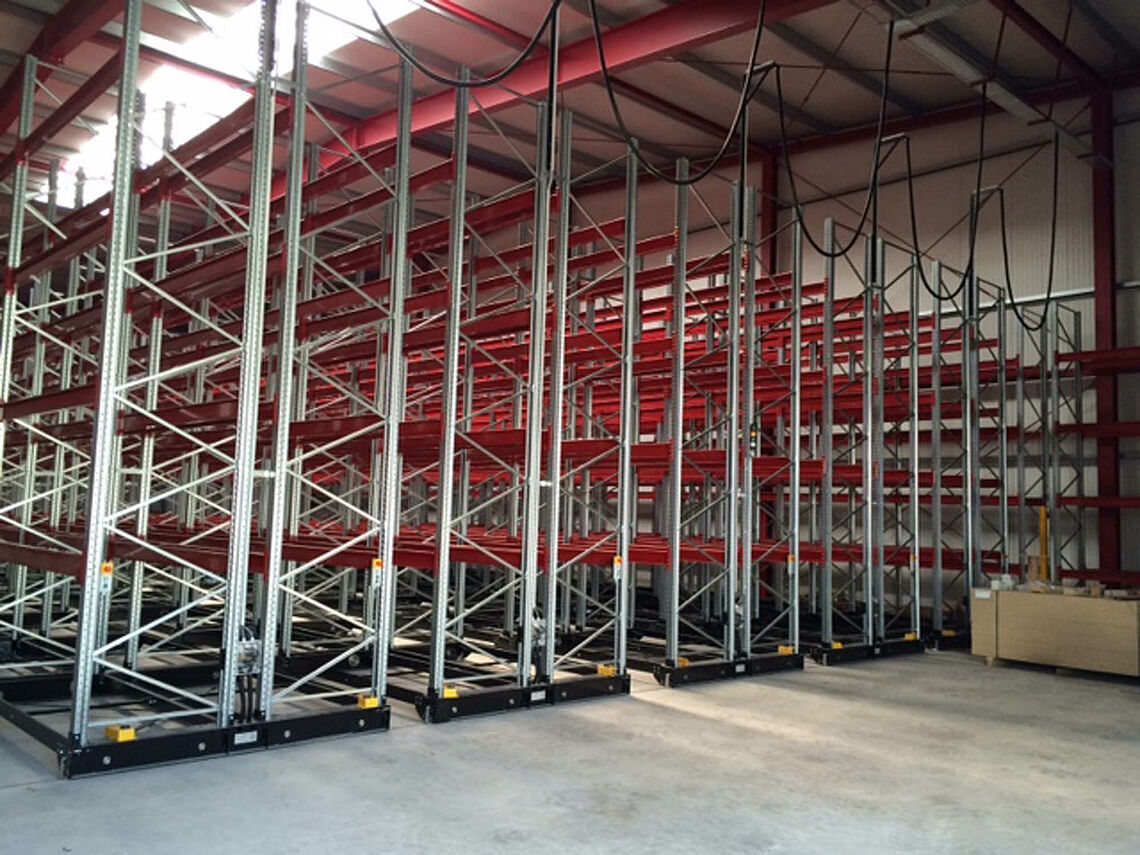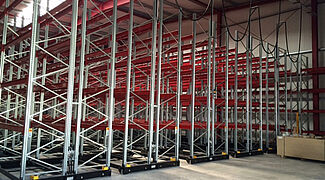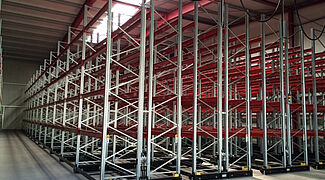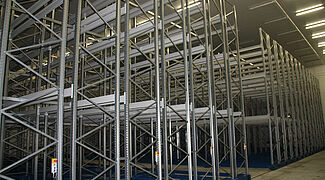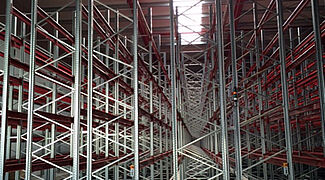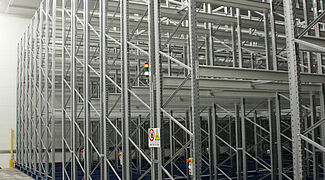 Pallet racks on trolleys
Movable pallet racks are dynamic racking systems and are suitable for palletised goods that require compact storage with a low footprint. With this storage system, the robust pallet racks are installed on torsion-resistant moving trolleys. The complete rack is moved as a single racking unit by means of either electronic or manual control. The trolleys are moved on rails, which can be implemented both in new systems and retrospectively in existing floors. In this way, only one active aisle is required per rack run of the pallet rack. This results in a high degree of utilisation of the available space since only one aisle is open, i.e. in the position where goods are stored into or retrieved from the rack.
OHRA racking - optimum utilisation of space due to trolleys
Movable racks ensure low-noise movement and are pushed together without any gaps. Outside the operating hours, the racking system can be switched to "night position". In that case, the individual racks of the pallet racking system are opened at equal distances, which are so narrow that none of the aisles can be accessed with a forklift truck. In this way, the movable racks also provide efficient theft protection.
OHRA pallet racking on trolleys – your benefits
Very compact system for storage of large amounts with a small footprint
Very efficient utilisation of space
Increased storage capacity
Protection of valuable goods from theft due to "Night position" of the rack blocks
Features and options
Various features are available for the extended configuration of your OHRA racking system, both standard and optional - such as
WMS connection
Light barriers to prevent passenger traffic or several forklifts in one aisle
Inductive or optical limit switches
Optical foot switches to avoid the danger of crushing
Gang light with or without forklift counter function
Siemens S7 control
Night position to prevent theft
Tiller operation