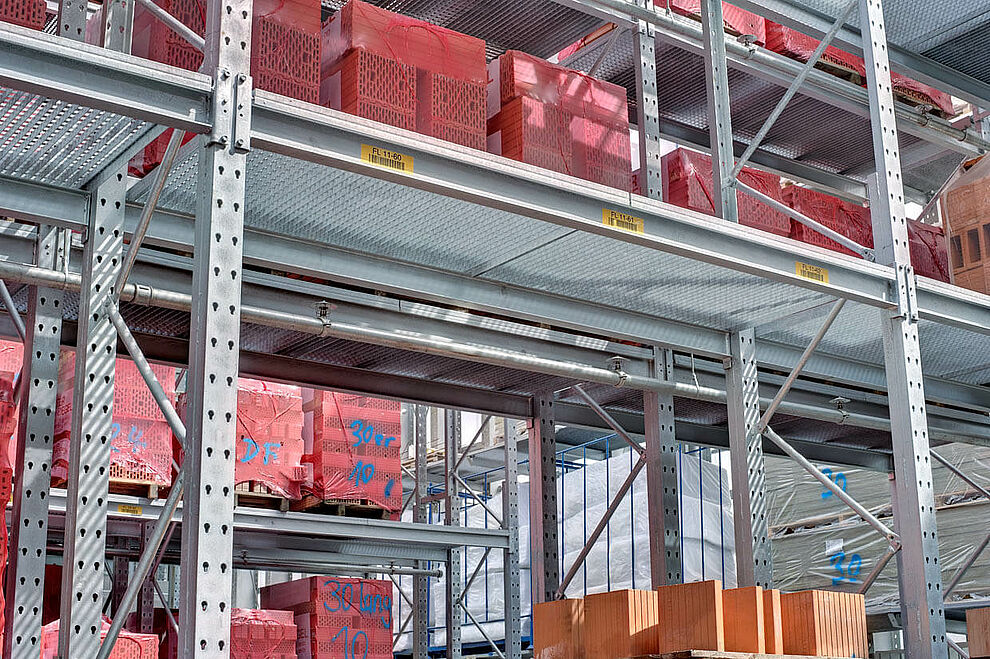 Pallet racking for bespoke solutions
Pallet racking systems are by far the most widely used storage systems for many applications. In addition to conventional storage of goods on different types of pallets (e.g. Euro or industrial pallets) these racks are also suitable for accommodating other storage aids such as pallet cages or heavy tools. Pallet racking are used in many sectors and industries, for example in the building materials trade, haulage and transport companies, in dispatching warehouses or as a single storage system for heavy goods.
OHRA pallet racking – many application options
The sturdy pallet racking systems by OHRA are made of hot-rolled high-quality steel sections for high load capacities and safe handling. The beams have a 100mm pitch. For light and medium loads, we offer the P5 pallet racking, a cold rolled pallet racking system made of optimised steel sheets with IPG profile beams. A special offer of OHRA are hot-dip galvanised pallet racks for outdoor storage. These racking systems can be supplied either with or without a roof. All pallet racks are quick and easy to assemble and can be optionally extended at any time.
OHRA pallet racking – your benefits
Customised adjustment to your warehouse configuration
Easy and fast assembly
Large safety tolerances in all systems
Accessories for individual configuration of the racks
Outdoor application including roof and/or walls in galvanised design is possible
Suitable for all types of sectors and industries – Made in Germany
---
Heavy duty pallet racking
The robust P3 pallet racking systems by OHRA provide an ideal storage of heavy and bulky loads. With these racks, you will find a place for a large number of goods, such as raw materials, semi-finished products and other products stored on pallets. The combination of solid, hot-rolled steel sections for the frames and beams allows for bay loads of more than 31,500 kgs and beam loads of more than 6,000 kg. The rack heights can be specified to the available space. The beam levels have a 100mm pitch and can be moved without the need of tools. We supply hot-dip galvanised design for outdoor areas. Supplied with a roof and wall(s) upon request.
OHRA pallet racking – highest load-bearing capacities
The hot-rolled steel of our racks ensures stability and provides many benefits in terms of high vertical load-bearing capacities. Other pallet racks are made of cold-rolled steel with a thickness of 2 mm, which is rather rigid even with comparably light impacts so that it is prone to kinking or bending and loose its load-bearing capacities. To ensure optimum load-bearing capacities of the racks when supporting pallets with heavy loads, we have opted for hot-rolled steel for both the frames and beams.
OHRA pallet racking for heavy loads – your benefits
Individually configurable pallet rack for heavy loads
Particularly suitable for building materials, raw material pallets and machine components
Bay loads up to 32,500 kg
Beam loads up to 6,000 kg
Optionally extendable, easy assembly
For outdoor application, available incl. roof and in hot-dip galvanised design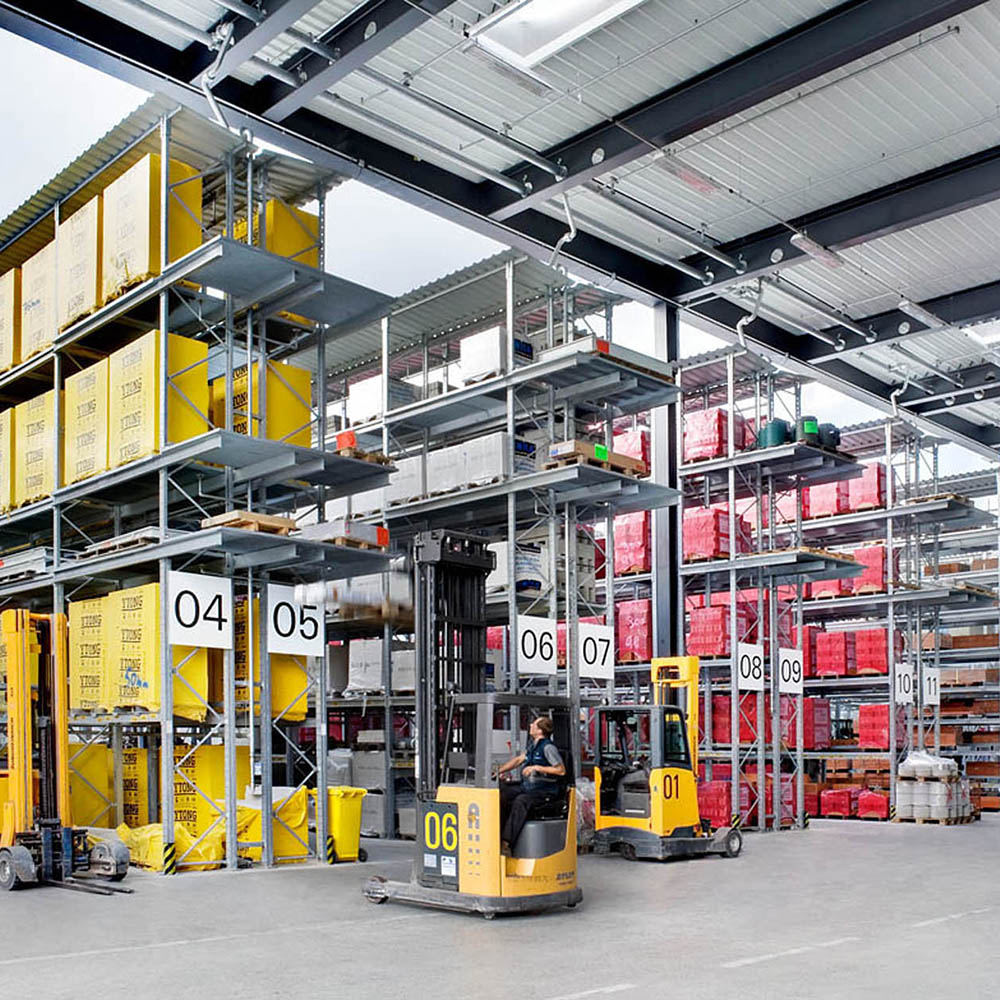 ---
Medium and light duty pallet racking
For light and medium loads (up to 3,000 kg beam loads) OHRA offers the P5 range of pallet racks, with is more favourably priced. In configurations where for forklift trucks are rail-guided, the requirements for robust uprights in the racks are lower. Our P5 rack uprights made of optimised steel sheets as well as the matching beams comply with the requirements for a safe and versatile pallet rack.
OHRA racking for light loads – high-quality production
Standard rack structures are screw-fixed but OHRA will also provide welded rack structures upon request. The beams are made of IPG sections and connected to the uprights by means of hanging brackets. The racks have a 50mm pitch, and adjustment of the beams can be made without the use of tools. The OHRA P5 pallet rack offers beam loads of up to 3,000 kg and bay loads of up to 18,000 kg. As standard, the uprights are supplied galvanised, and the beams are painted in RAL 7035 (light grey).
OHRA pallet racking for light loads – your benefits
Low investment costs, favourably priced solution for storage of pallets
Quick assembly
Optionally extendable
Surface finish in high-quality powder coating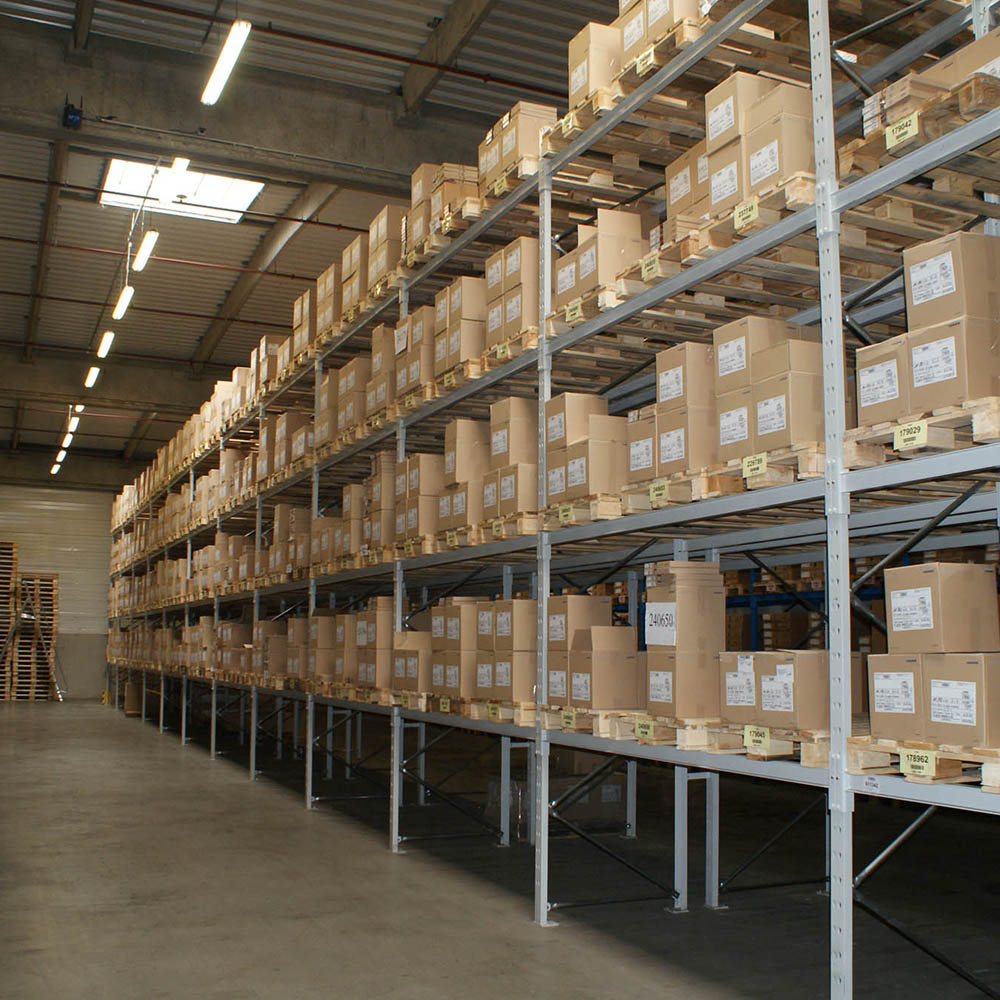 ---
Roofed pallet racking
Roofed pallet racks are a special product by OHRA. There is no better alternative for weather-resistant goods that can be stored in outdoor racks. The roofed OHRA racks are particularly suitable for businesses with a garden centre product range or for building materials trade where finished concrete parts, bagged goods on pallets or timber elements are stored in outdoor areas.
OHRA rack with a roof – versatile designs
The multiple roofing options as well as different wall designs complement the racking system and thus protect the stored goods from any type of weather. Trapezoidal sheets or light panels may be used for roofing, for example: for wall panels, use trapezoidal sheets or sandwich panels. Everything load-bearing such as uprights and beams are available either in hot-dip galvanised or powder-coated finish. With roofed racks, the regional snow and wind loads are determined and considered when selecting the correct sections. Considering these statics conditions ensures that your OHRA pallet racking with a roof withstands all weather conditions.
OHRA roofed pallet racking – your benefits
Utilisation of the entire outdoor area; thus, saving valuable space inside the warehouse
High bearing loads, considering the weather effects
Durable structure – sustainable investment in storage
Favourable prices due to low number of different components
Different roof designs available for selection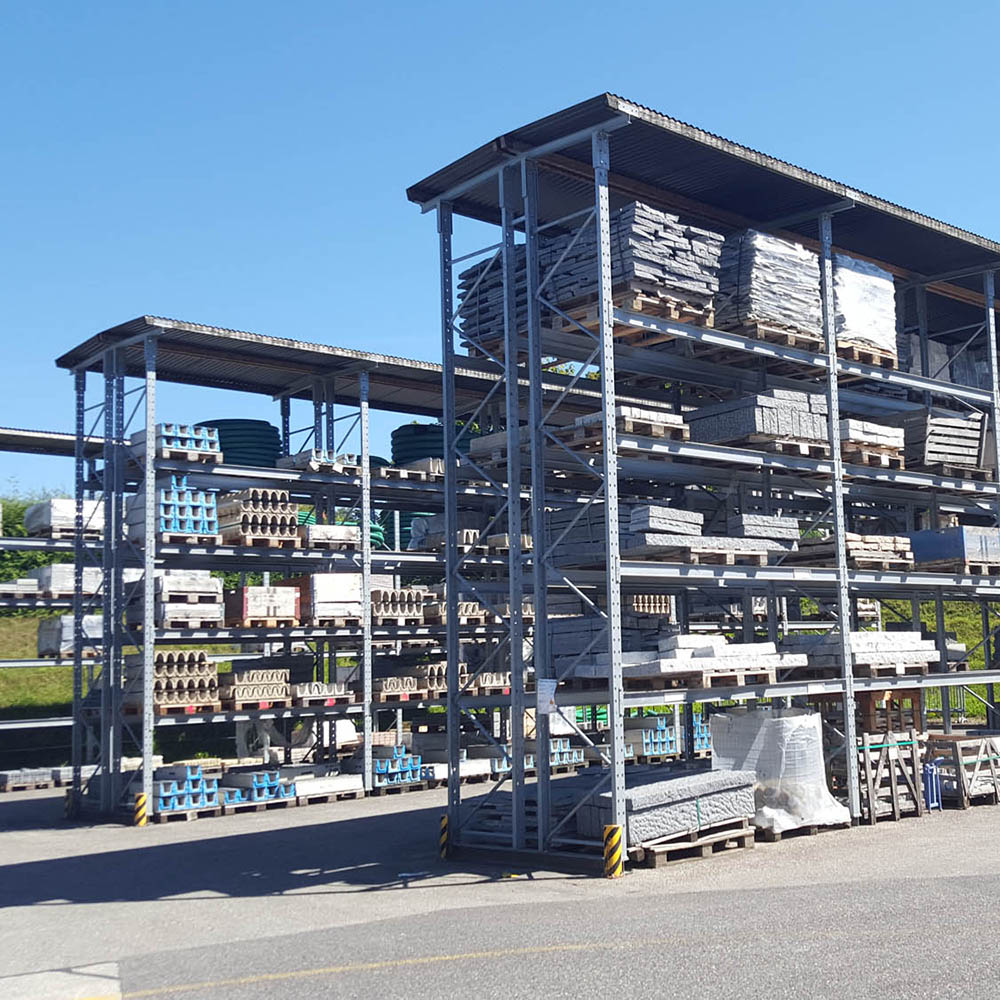 ---
Pallet racks on trolleys
Movable pallet racks are dynamic racking systems and are suitable for palletised goods that require compact storage with a low footprint. With this storage system, the robust pallet racks are installed on torsion-resistant moving trolleys. The complete rack is moved as a single racking unit by means of either electronic or manual control. The trolleys are moved on rails, which can be implemented both in new systems and retrospectively in existing floors. In this way, only one active aisle is required per rack run of the pallet rack. This results in a high degree of utilisation of the available space since only one aisle is open, i.e. in the position where goods are stored into or retrieved from the rack.
OHRA racking - optimum utilisation of space due to trolleys
Movable racks ensure low-noise movement and are pushed together without any gaps. Outside the operating hours, the racking system can be switched to "night position". In that case, the individual racks of the pallet racking system are opened at equal distances, which are so narrow that none of the aisles can be accessed with a forklift truck. In this way, the movable racks also provide efficient theft protection.
OHRA pallet racking on trolleys – your benefits
Very compact system for storage of large amounts with a small footprint
Very efficient utilisation of space
Increased storage capacity
Protection of valuable goods from theft due to "Night position" of the rack blocks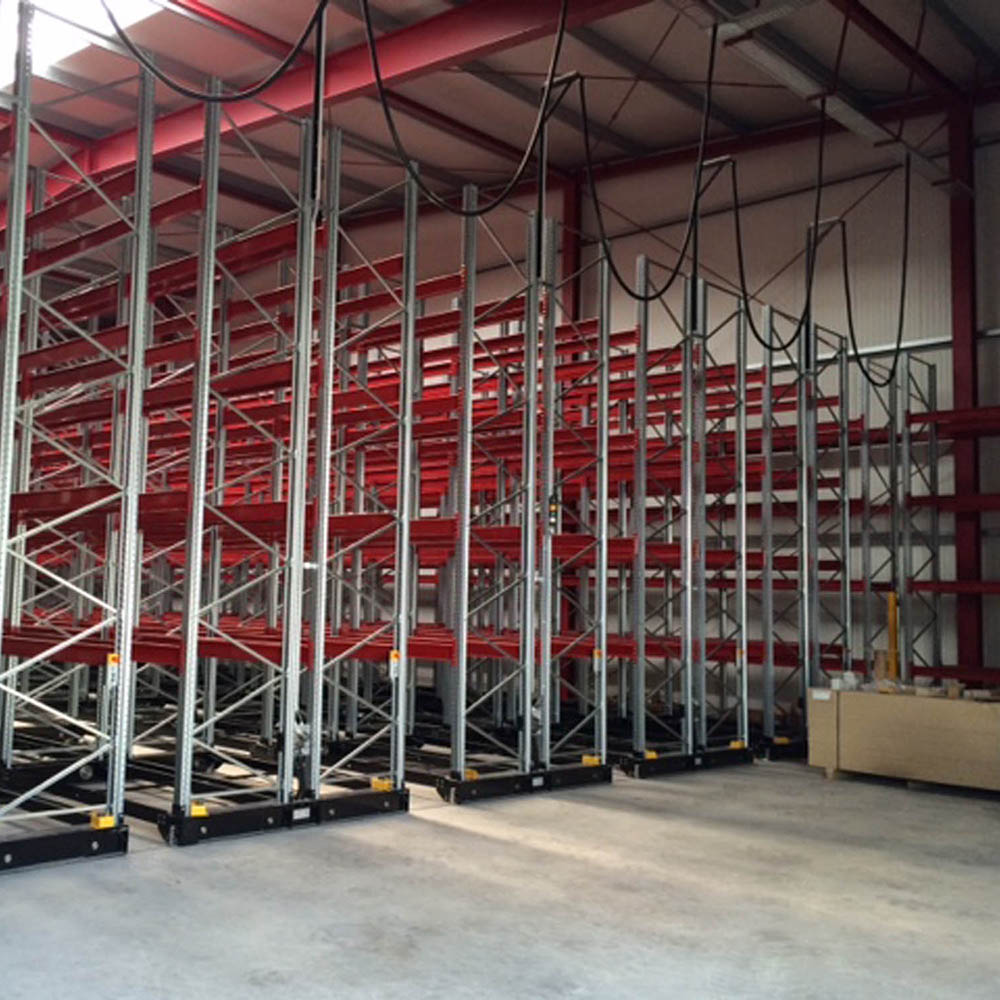 ---
Pallet rack mezzanine floors
Pallet rack mezzanine floors by OHRA are storage levels based on OHRA pallet racks used as the substructure. The individual runs of the pallet racking are horizontally connected with steel sections covered with the required flooring material (metal sheets or chipboard panels) so that a structural supporting area is created between the racks. In this way, every inch of the warehouse space is utilised and no space is wasted. With this method, several mezzanine levels can be implemented within the racking system.
OHRA rack used as mezzanine floor – new options
The fusion of rack and mezzanine floor creates customised and versatile storage options, i.e. a combination of order-picking and a working zone with direct storage options. Thanks to the strong, hot-rolled steel sections used by OHRA for the pallet racks, several levels of mezzanine floors within one racking system are no problem, at all.
OHRA pallet racking mezzanines – your benefits
Optimum space utilisation by exploiting the entire height of the building
Direct proximity of storage and order-picking zones
Saving transit time thanks to intermediate mezzanines directly integrated in the storage area
Expansion of the useable area due to complete utilisation of the height of the warehouse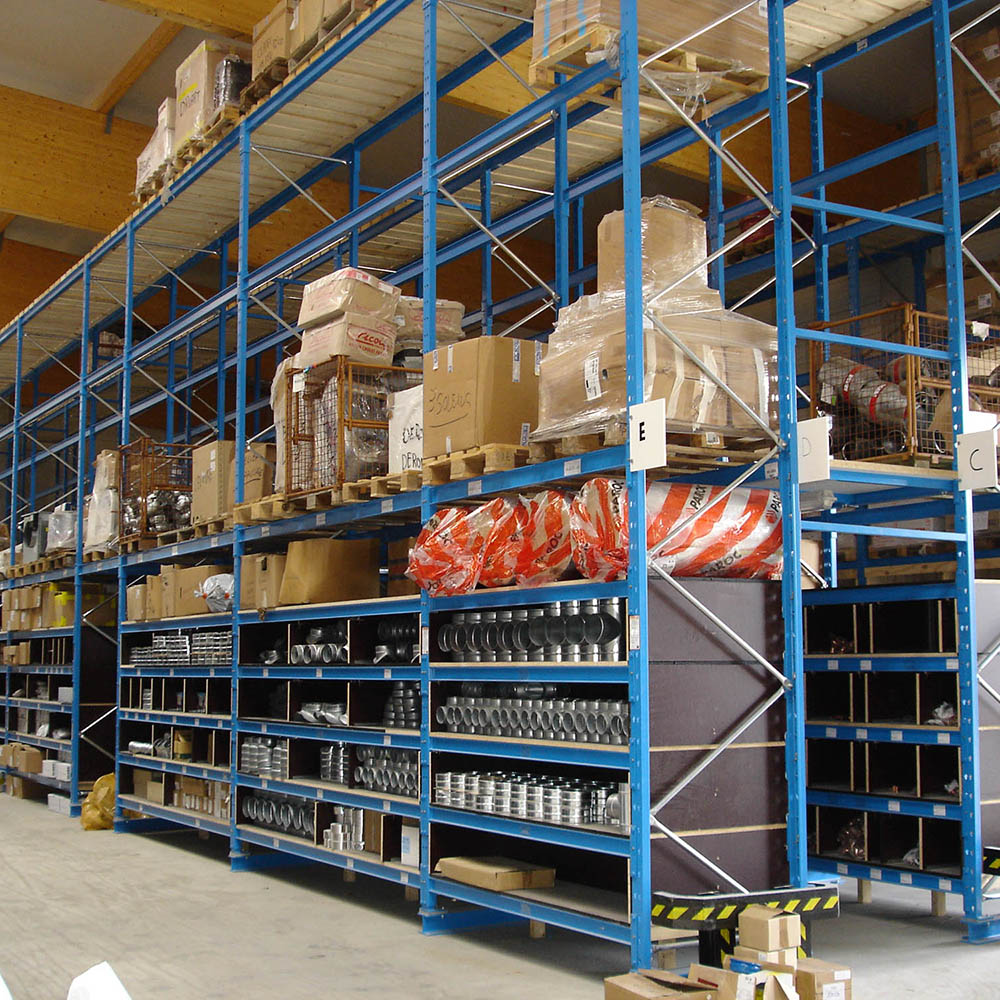 ---
Drive-in racks
Drive-in racks combine the advantages of block stacking and rack storage: compact space utilisation combined with large storage heights. They are particularly suited for storage of large quantities of equal products and for pressure-sensitive goods that cannot be stacked. These include washing agents, catalogues, motor oil, toilet paper or tinned food with long best before dates.
OHRA drive in rack – storage system with one end open
Storage of goods in the rack is performed from one side only. The forklift truck moves into the rack channel and deposits the pallets on laterally installed shuttle units. The drive-in rack has only one open end and operation is performed from that side only. The pallet stored last is retrieved first. Thus, storage is performed according to the LIFO principle (last-in-first-out). The uprights of the OHRA drive-in racks are made of IPE or U sections, depending on the requirements. This is to implement several rack channels above one another and to protect the rack from accidental impacts by the forklift truck. The shuttle units installed at the sides of the rack channels have extreme load-bearing capacities and sliding properties. For additional protection of the uprights in the entry areas, OHRA recommends using collision guards.
OHRA drive-in racks – your benefits
Particularly space-saving due to high compaction of the warehouse
High degree of utilisation of the available floor area/space
Gentle storage of sensitive goods
Cost savings due to particularly compact storage of pallets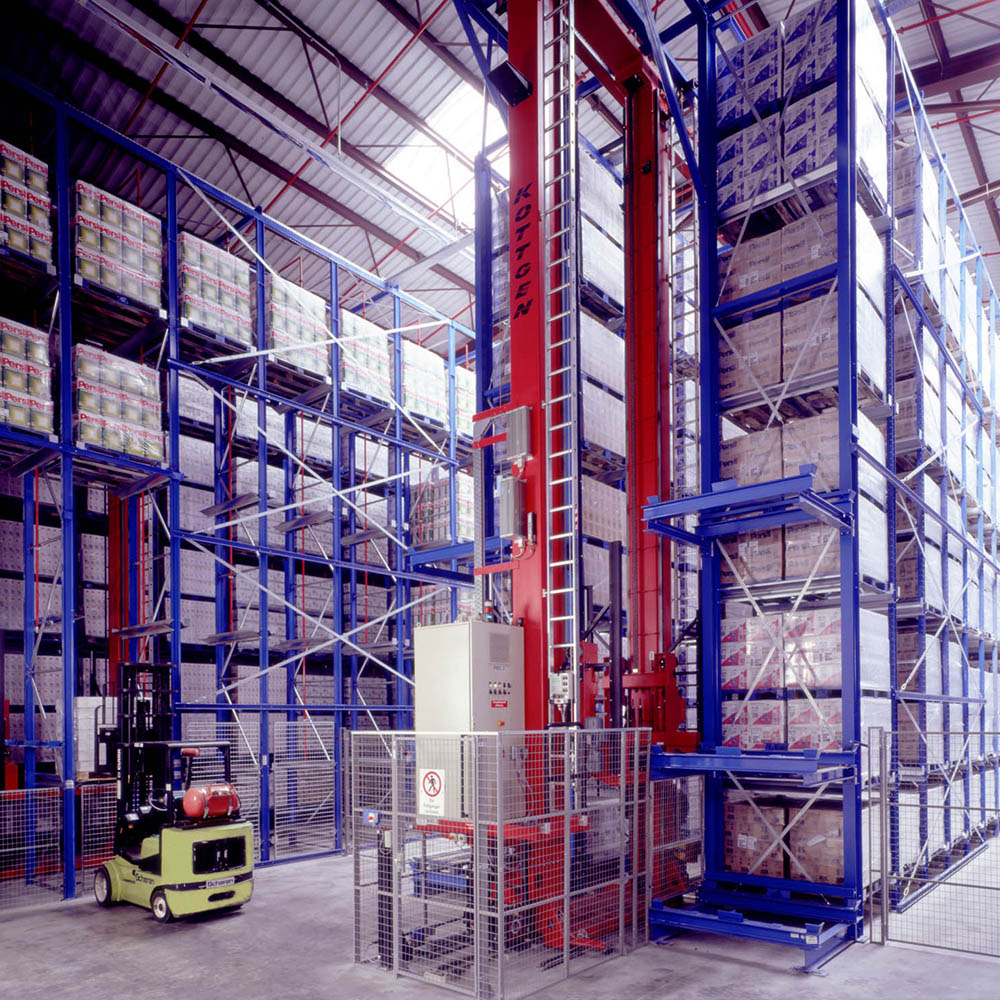 ---
Technical details
Our pallet rack is manufactured from robust, full-core hot-rolled steel profiles guaranteeing high loading capacity, operational safety and prolonged longevity. Load bearing parts, i.e. columns, bases and arms, are powder coated RAL 5015 as standard, further standard RAL colours are available. Outdoor racks are hot dip galvanized.
Product characteristics for frame uprights and horizontal beams:
Heavy duty Hot rolled channel section upright.
Heavy duty hot rolled "I" beam section.
Unique high impact resistant upright for tough environments.
Standard pitch 100 mm, a 50mm pitch is optionally available.
25 year rust-through warranty for hot dipped galvanized finish.
Our racking systems are manufactured to DIN 18800-7, EUROCODE, and FEM 10.2.02.
Certified welding to DIN EN 287, DIN EN 729, and DIN EN ISO 13920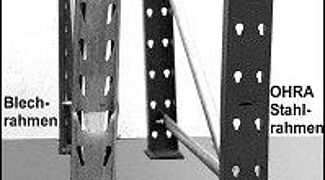 Pallet rack accessories
The large range of accessories available for your OHRA pallet racking helps you configure your warehouse according to your needs and industry requirements.
Collision guards in various designs, upright-raising units for safety in the rack aisle, load distributors, push-through protectors or spacers are only a small selection of the many products we offer. The accessories for your OHRA pallet racking can be either separately supplied or directly delivered with your order.