Racks with roof
OHRA offers racking systems an externall outdoor warehouse, which not only create additional storage space, but also offer sufficient protection against the effects of the weather. The roofing of cantilever and pallet racks, for example for the storage of wood, ensures that the product remains dry and at the same time aerated.

OHRA offers various roof structures, all of which are statically calculated taking into account snow and wind loads. We supply Trapezoidal sheeting material fo the roof, we can also fit materials you supply.
OHRA racking systems - your advantages
Optimal utilization of the storage area outdoors
Various roof structures avaiable
Installation services including roofing
On-site services possible
Steel construction and foundational statistics available
individual design according to requirement
Optimized price-performance ratio
---
Roofed cantilever racking
In outdoor areas cantilever racking with a roof is the right choice for your long goods that do not necessarily need storage in a warehouse. In the static calculation of the storage system we consider the additional loads due to wind and snow in your region and dimension the rack sections and the rack roof accordingly. We advise and inform you from the beginning - from planning to roof covering. In addition if required, we can provide drawings and static calculations.
OHRA roofed racking - functional storage in outdoor areas
For outdoor applications, the cantilever racking is supplied with a roof, the racking materials are made of high-quality hot-dip galvanised or of powder-coated materials, according to your requirements. As an additional weather protection element, we have various back and side wall designs made of metal sheets or wood boards, weather protection nets or roller shutter systems. Roofing and water drainage is also included in our range of services but may also be provided by the customer. The inclination of the roof can be individually adjusted according to the drainage system and the forklift truck properties. The combination of our robust cantilever racks and our comprehensive knowledge for racks with roof and/or walls, means we will find the perfect solution, for your new warehouse. Make use of your outdoor space to store long goods or heavy loads.
OHRA roofed cantilever racking – your benefits
Racking uprights and cantilever arms made of solid, hot-rolled IPE steel sections
Clipped-in, height-adjustable arms
Outdoor applications also available with roof, walls and water drainage system
Hot-dip galvanised standard design for outdoor storage
Statics calculations can be provided for obtaining building permits
Request for proposal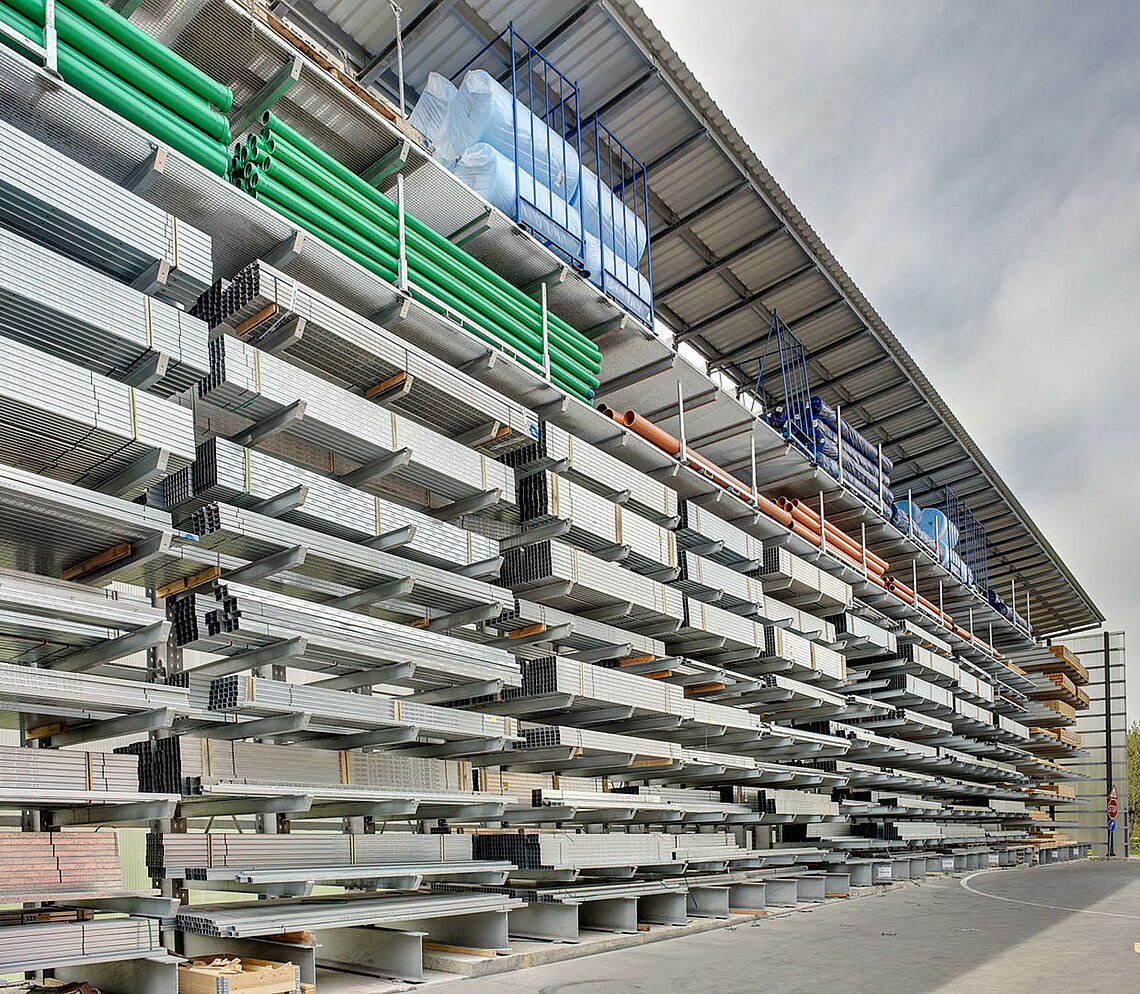 Roofed pallet racking
Roofed pallet racks are a special product fromOHRA. There is no better alternative for weather-resistant goods that can be stored in outdoor racks. The roofed OHRA racks are particularly suitable for businesses with a garden centre product range or for building materials trade where finished concrete parts, bagged goods on pallets or timber elements are stored in outdoor areas.
OHRA rack with a roof – versatile designs
The multiple roofing options as well as different wall designs complement the racking system and thus protect the stored goods from most types of weather. Trapezoidal sheets or light panels may be used for roofing, wall panels may use trapezoidal sheets or sandwich panels. Everything load-bearing such as uprights and beams are available either in hot-dip galvanised or powder-coated finish. With roofed racks, the regional snow and wind loads are determined and considered when selecting the correct sections. Considering these static conditions ensures that your OHRA pallet racking with a roof withstands adverse conditions.
OHRA roofed pallet racking – your benefits
Utilisation of the entire outdoor area; thus, saving valuable space inside the warehouse
High bearing loads, considering the weather effects
Durable structure – sustainable investment in storage
Favourable prices due to low number of different components
Different roof designs available for selection