Gallery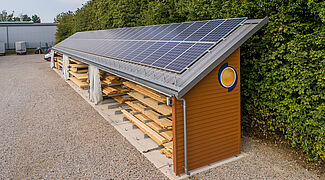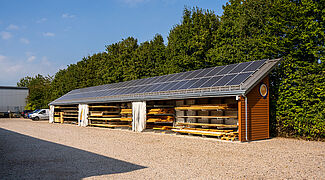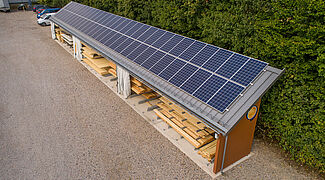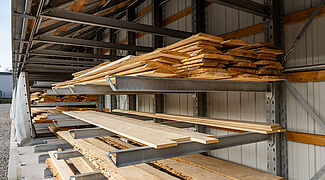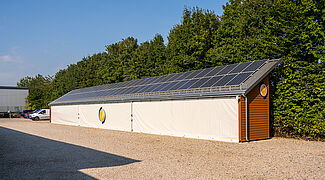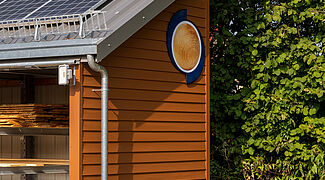 Schmidt carpentry workshop: 40% more storage capacity plus electricity from the roof
Sustainability is not only important when it comes to the wood used for Torsten Schmidt joiners. OHRA constructed a cantilever storage system for the Thuringian firm which not only offers more storage space for panels and timber, but also supports a photovoltaic system on the roof. This means the carpentry shop was able to increase storage capacity by 40 percent and at the same time generate sustainable electricity from the roof for its own use.
The joinery based in Pößneck, near Jena, designs and manufactures primarily custom pieces in solid wood or from high-quality panel materials. For this purpose, the company usually purchases the wood it needs from local timber dealers, ensuring sustainable management and short supply routes.
Sustainability also plays a role in the new rack system, with which the carpenter wanted to create additional space for panels and solid wood. The 30-meter-long cantilever rack supplied by OHRA supports a photovoltaic system that produces renewable electricity for the joinery. In order to do so, OHRA equipped the rack system with special support arms and roof bars. This allows for an optimal roof pitch of 30 degrees for the photovoltaic system. The roof itself is covered with trapezoidal sheets. The entire substructure, including the cantilever rack pillars, was adapted to the weight of the solar cells – after all, the 60 modules weigh a total of approximately 1,000 kilograms.
The cantilever rack itself, with a height of 3,740 millimetres on three storage levels – the top one is at a height of 1,700 millimetres – offers sufficient space for the panels and solid wood required by the joinery. The continuously adjustable, 1,800 millimetre long cantilever arms can each support up to 400 kilograms. The rack is single-sided, the rear wall is covered by the joiner's own work - the rack set-up on the property boundary also functions as a soundproofing wall.
Despite the special construction requirements of the photovoltaic system, OHRA implemented the rack system in just six months - from the placement of order to commissioning. The rack system has been producing environmentally sustainable electricity for the company for around a year. In addition, the Torsten Schmidt joinery was able to increase its storage capacity by 40 percent. The cantilever rack concept allows for quick, direct access to the stored goods. Timber damage during storage and retrieval is avoided due to this and the flexible, freely suspended cantilever arms.
About the Torsten Schmidt joinery:
The portfolio of the Torsten Schmidt joinery based in Pößneck in Thuringia ranges from front doors and cladding to windows and furniture. The company combines a modern machinery with traditional craftsmanship. In doing so, the carpentry firm operates well beyond the borders of Thuringia. Local architecture firms and private investors have been regular customers for decades.
---
---