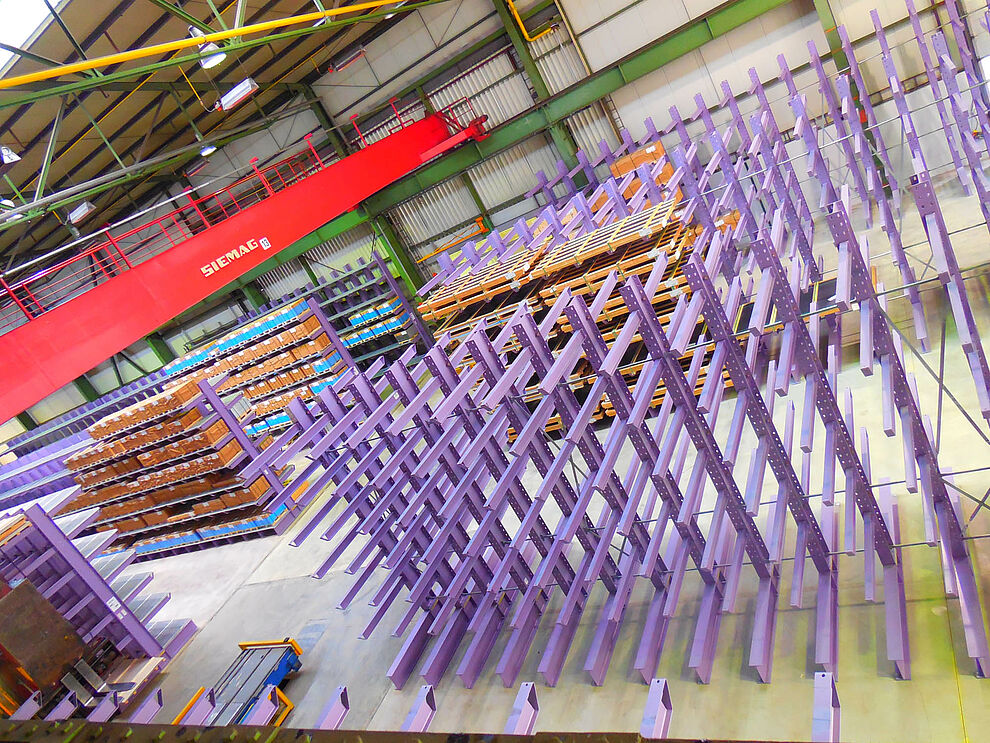 Perfect racking solution for long goods
Cantilever racking systems are highly load-bearing storage systems intended for storage of long and/or bulky storage materials. Such goods include timber, wooden boards, metal sheets, sections, beams or steel elements, building materials but also scrap cars and all kinds of heavy loads.
Cantilever racking by OHRA is distinguished from standard racks using solid steel sections for all load-bearing elements. Thanks to this slim construction of our racks a high storage capacity can be achieved across a small floor space.
Cantilever racking by OHRA – flexible and bespoke
There are specific types of cantilever racks for every product and for every industry. They differ based on requirements, height, useable depth, load-bearing capacity or section thickness. All cantilever racking are produced individually according to customer requirements; they are equipped with a high-quality powder coat or hot-dip galvanised for outdoor storage. OHRA cantilever racking are available in different variants ranging from small racks for light loads to complete rack clad buildings, where the rack uprights simultaneously function as the load bearing structure for the roof and walls. Versatile accessories, such as beams for continuous storage surfaces without cumbersome intermediate supports or inclined arms for storage and retrieval using cranes are part of the company' standard services. Additional services, such as racking assembly, statics calculations or preparation of drawings complete the range of services.
OHRA cantilever racking – your benefits
Racking uprights and cantilever arms made of solid, hot-rolled IPE steel sections
Clipped-in, height-adjustable arms
High-quality powder coating
In outdoor applications also incl. roof, back wall and rain gutter
Hot-dip galvanised design for outdoor storage
The movable OHRA cantilever arm
---
Heavy duty cantilever racking
OHRA doesn't give in. Heavy loads are a challenge for every type of rack but not for the OHRA cantilever racking. The product benefits of our racking system become even more distinct with higher load requirements. With standard arm loads of up to 2,500 kg and support loads of up to more than 10,000 kg the OHRA cantilever racks can easily handle even the heaviest burdens.
Whether its slabs, metal sheets, wood packages, coils or heavy long boards, regardless of indoor or outdoor storage, our experts will develop an ideal solution for your storage demands. OHRA racking meets your technical requirements and is in compliance with the applicable standards.
OHRA racking - more than 40 years of experience
Benefit from our long-term experience as a planning and manufacturing company of racking systems. OHRA's more than 40 years of experience as a racking manufacturer acting all over Europe comes in handy. We provide solutions for complex storage situations by relying on a comprehensive range of accessories and/or by creating bespoke solutions, such as guiding rails in combination with very narrow aisle trucks.
With an OHRA cantilever arm rack, each of your products can be directly accessed and is easily stored and retrieved either by crane, forklift truck, VNA truck or stacker crane. With full capacity utilisation, OHRA racks remain permanently stable and ensure a high degree of safety for your staff and your customers.
OHRA cantilever racking for heavy loads – your benefits
Racking uprights and cantilever arms made of robust, solid, hot-rolled IPE steel sections
Clipped-in, height-adjustable arms
Bespoke solutions
Permanently stable and safe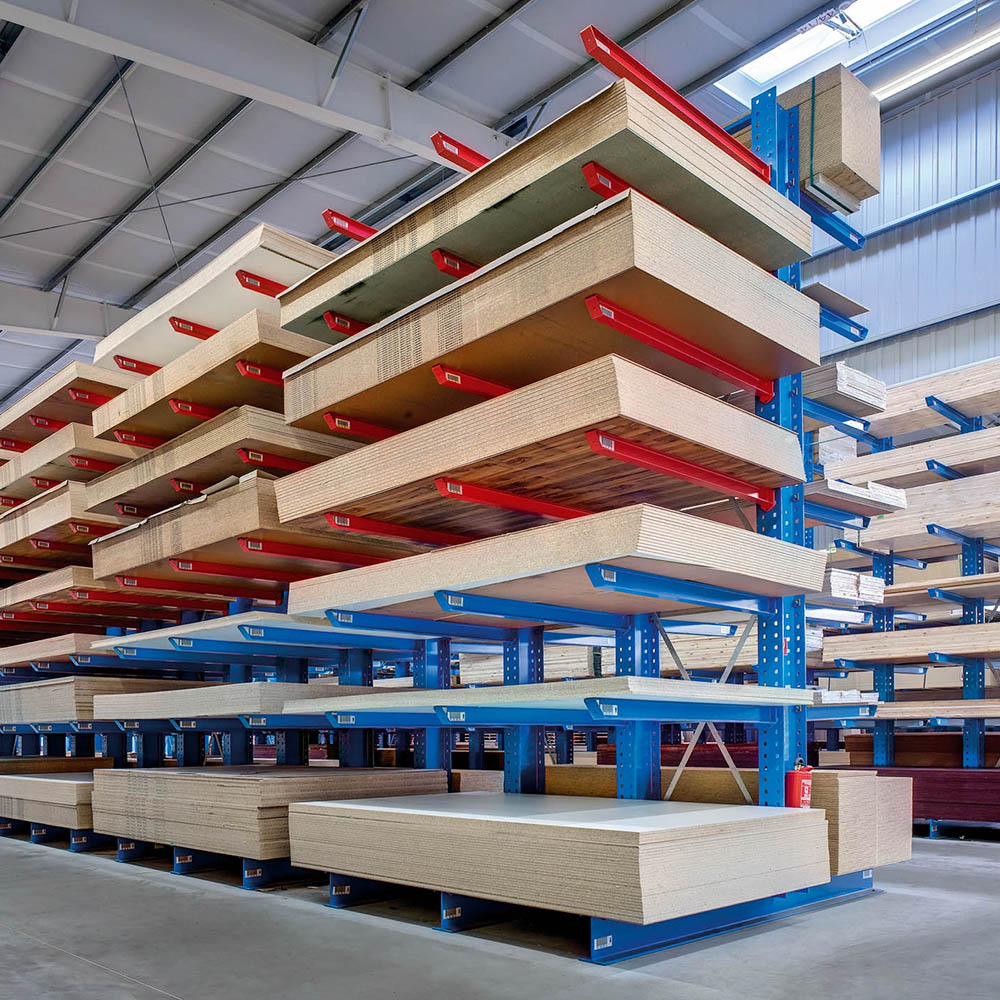 ---
Light duty cantilever racking
Light duty cantilever racks are different in truck-operated racks or manually operated racks. In the aluminium or plastics trade, the loads moved and stored are very light. However, as with heavy duty racking, the requirements frequently are for optimum space utilisation and ideal technical solutions. This may be implemented by means of conventional cantilever racking but also by means of VNA warehouses, automated warehouses or paternosters/mobile racking. The decisive factor are the objectives that you want to achieve with your project.
Manually operated cantilever racking by OHRA
Racks that are operated or moved by hand are mainly found in carpenters' and woodworkers' shops but also in the drywall construction and metal processing industries. Light duty cantilever racks are required for such purposes, for picking individual plates or sections, for keeping the rack tidy and in order, and for supporting the production process. Rack height, rack depth and arm loads can be optionally configured. However, for manually operated cantilever racking, the most frequently used heights are 2,000 or 2,500 mm and the useable depths are mostly 600 or 800 mm. Upon request, we can also equip racks with a trolley base, casters and/or shelves to be used as mobile solution for transport within the company/factory. You can choose from our entire range of standard accessories. All racking is delivered including all mounting and fixing elements, as well as floor anchors.
OHRA cantilever racking for light loads – your benefits
Customised adjustment to all requirements
Clipped-in, height-adjustable arms
Easy handling
Large selection of standard accessories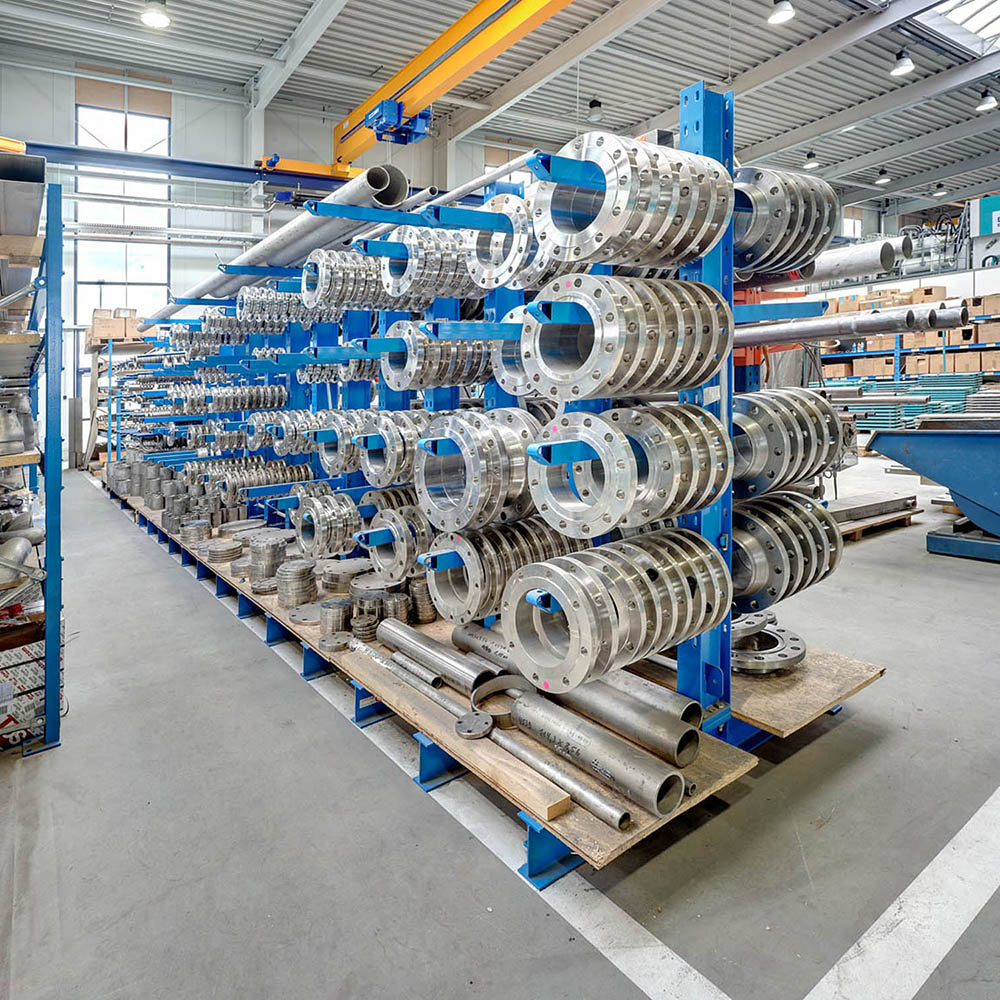 ---
Roofed cantilever racking
In outdoor areas cantilever racking with a roof is the right choice for your long goods that do not necessarily need storage in a warehouse. In the static calculation of the storage system we consider the additional loads due to wind and snow in your region and dimension the rack sections and the rack roof accordingly. We advise and inform you from the beginning - from planning to roof covering. In addition, we provide help and support for obtaining building permits; if required, including drawings and static calculations.
OHRA roofed racking - functional storage in outdoor areas
For outdoor applications, the cantilever racking is supplied with a roof, the racking materials are made of high-quality hot-dip galvanised or of powder-coated materials, according to your requirements. As an additional weather protection element, we have various back and side wall designs made of metal sheets or wood boards, weather protection nets or roller shutter systems. Roofing and water drainage is also included in our range of services but may also be provided by the customer. The inclination of the roof can be individually adjusted according to the drainage system and the forklift truck properties. The combination of our robust cantilever racks and our comprehensive knowledge for racks with roof and/or walls, means we will find the perfect solution, for your new warehouse. Make use of your outdoor space to store long goods or heavy loads.
OHRA roofed cantilever racking – your benefits
Racking uprights and cantilever arms made of solid, hot-rolled IPE steel sections
Clipped-in, height-adjustable arms
In outdoor applications also available incl. roof, walls and water drainage system
Hot-dip galvanised standard design for outdoor storage
Statics calculations can be provided for obtaining building permits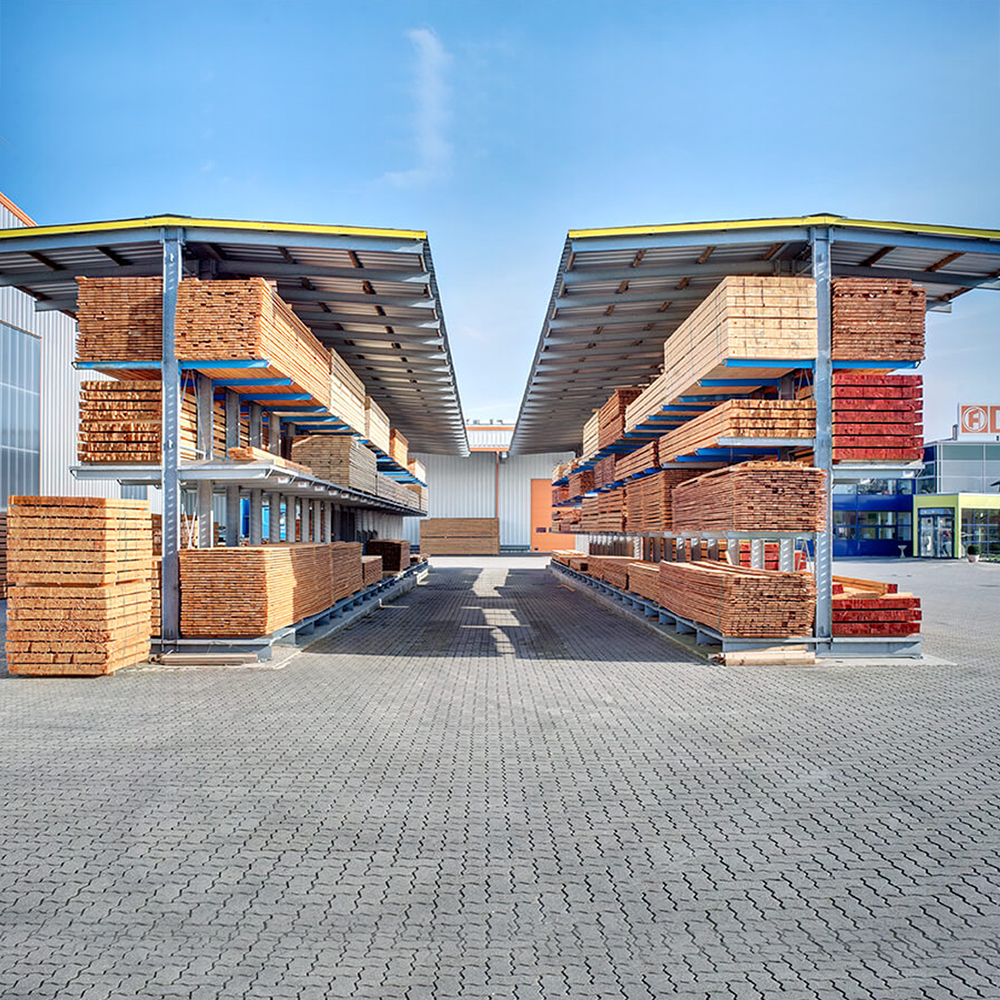 ---
Mobile cantilever racks
Mobile cantilever racks allow for most efficient utilisation of space within your warehouse. Depending on the selected design, the storage capacity may be increased by up to 100%. Mobile racking is ideal for bulky storage goods with a low access frequency. For that purpose, the racks are mounted on beds, which may be designed with up to 70 metres length. The beds can be moved apart either manually or by radio remote control so that the required aisle is opened.
OHRA racking – movable on beds
The beds for the movable racking are operated on rails, which have been previously installed in the floor. Subsequent installation of rails and beds for your existing OHRA cantilever racking in the existing storage spaces is also possible. At the end of the working day, the racks are positioned in the night position so that unwanted access by forklift trucks is prevented. We attach equally great importance to reliable safety and tried standards for mobile racking as for our standard racking. The OHRA cantilever racking on beds comply with the provisions of Regulation BGR 234 of the German employers' liability association and the CE standards.
OHRA mobile racking – your benefits
Increase of storage capacity of up to 100%
Operation via radio remote control
Subsequent installation of rails in existing buildings is possible
Safety as per BGR 234 and CE
Effective warehouse systems by RBB Aluminium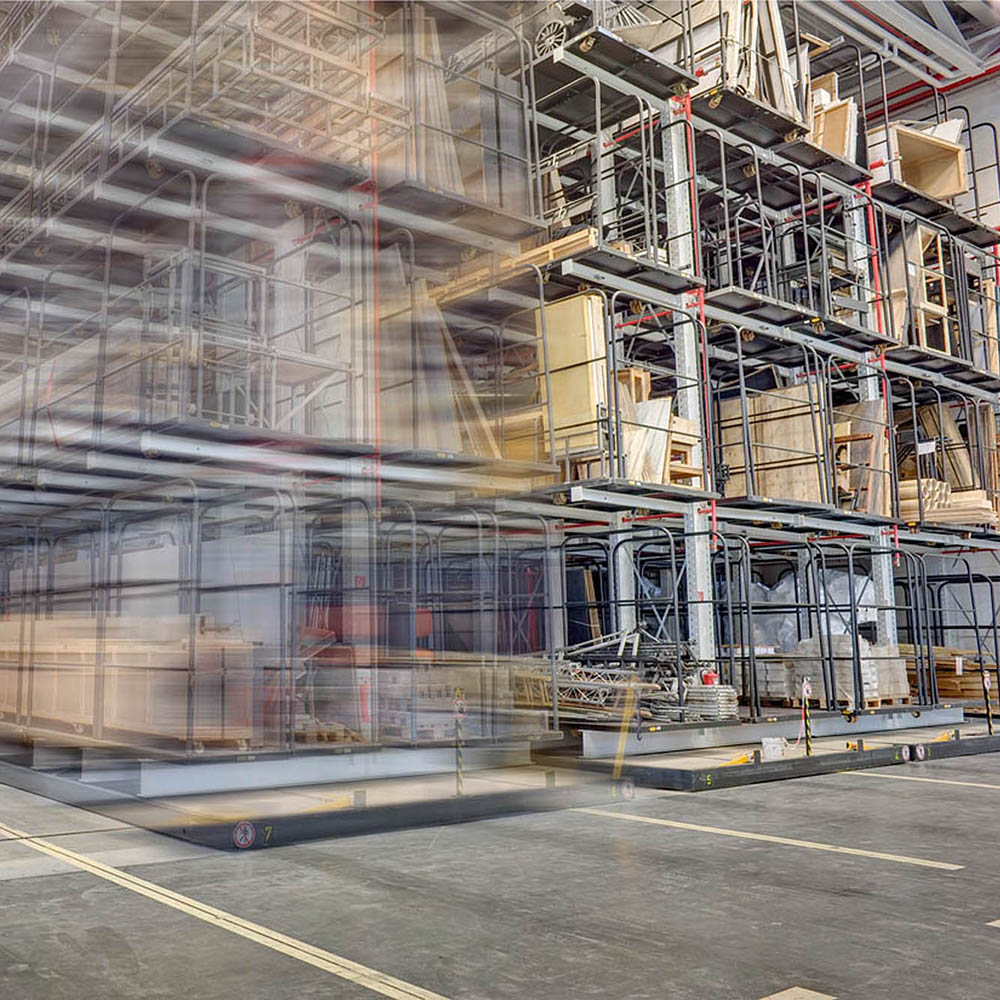 ---
Cantilever rack mezzanine floors
The combination of robust OHRA cantilever racks, and space-saving, multi-level storage platforms, results in a perfect storage system that can be used as an order-picking level, a sales area or workplace. Thanks to the flexible racking solutions by OHRA your stored material remains directly accessible and can be efficiently processed without long and time-consuming transport routes.
Using OHRA cantilever racking for a mezzanine floor
The cantilever racks are used as the support structure and carriers for the mezzanine floor, regardless whether it is a top-mounted mezzanine or an in-rack intermediate mezzanine. Benefit from this flexibility of OHRA cantilever racking to utilise space from the floor to the ceiling and create ideal storage conditions. We offer complete services for your OHRA rack as a one-stop shop, ranging from statics to installation.
OHRA racking on trolleys – your benefits
Racking uprights and cantilever arms made of solid, hot-rolled IPE steel sections
Perfect solutions for long goods picking warehouse
Full utilisation of the space
Clippwd-in, height-adjustable arms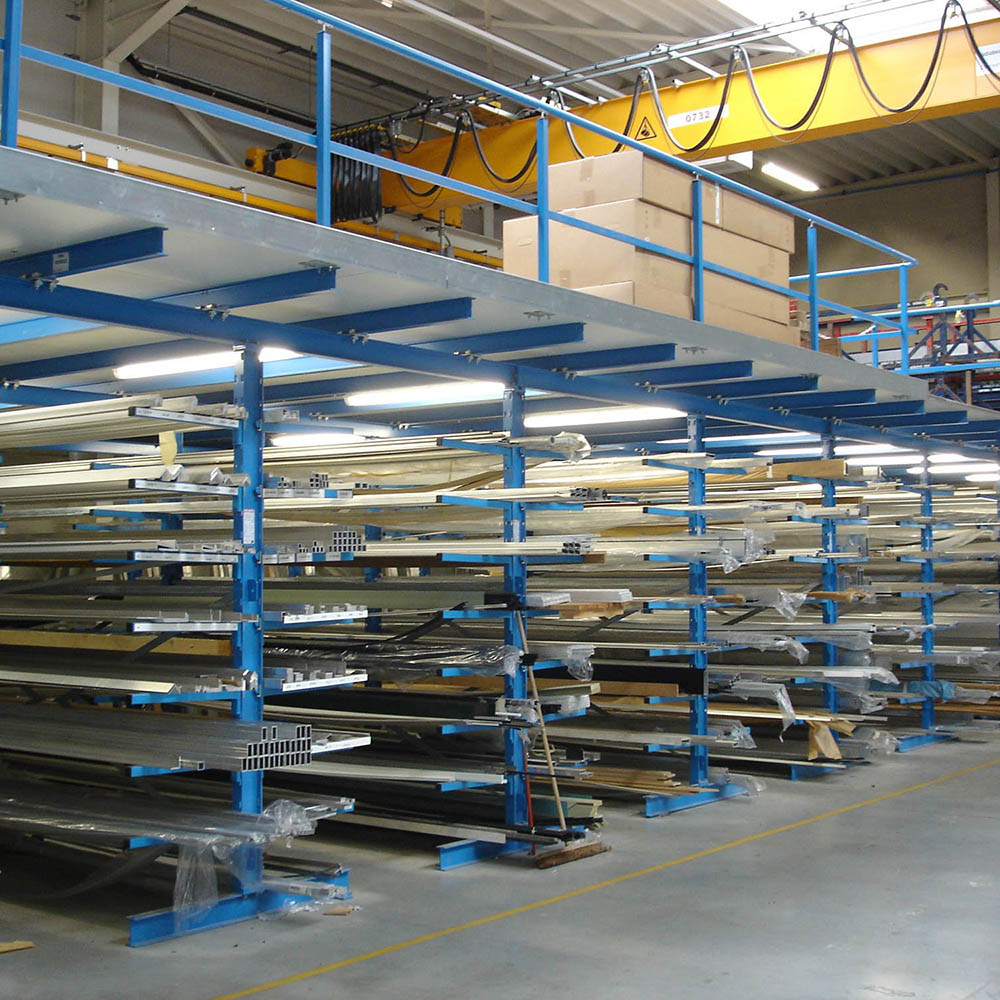 ---
Cantilever racking with inclined arm racks
Another option for storing long materials using a crane, are the versatile inclined arm racks. With this type of OHRA racking the cantilever arms are manufactured with a 20° inclination and provide load-bearing capacities per arm of up to 800 kg. The long materials will easily slide into the intended bay. Individual batch sizes can be picked by what is referred to as locking pins and then be transported by forklift truck or crane.
OHRA inclined arm racking – your benefits
Racking uprights and cantilever arms made of solid, hot-rolled IPE steel sections
Robust, hooked-in inclined arms
Locking pins for picking and shelves as standard accessories
---
Complete tiles presentation rack
In the DIY industry or in hardware stores OHRA cantilever racks are used as presentation and storage racking for tiles or laminate and parquet flooring. Their robust design and the easily assembled 20° display panels ensure permanent, perfect product presentation. The overall standard height is 2,650 mm the rack length is 2,800 mm so that exactly 3 Euro-pallets can be positioned in a row.
OHRA tapered racking – your benefits
Racking uprights and cantilever arms made of solid, hot-rolled IPE steel sections
Clipped-in 20° display area
High-quality powder coating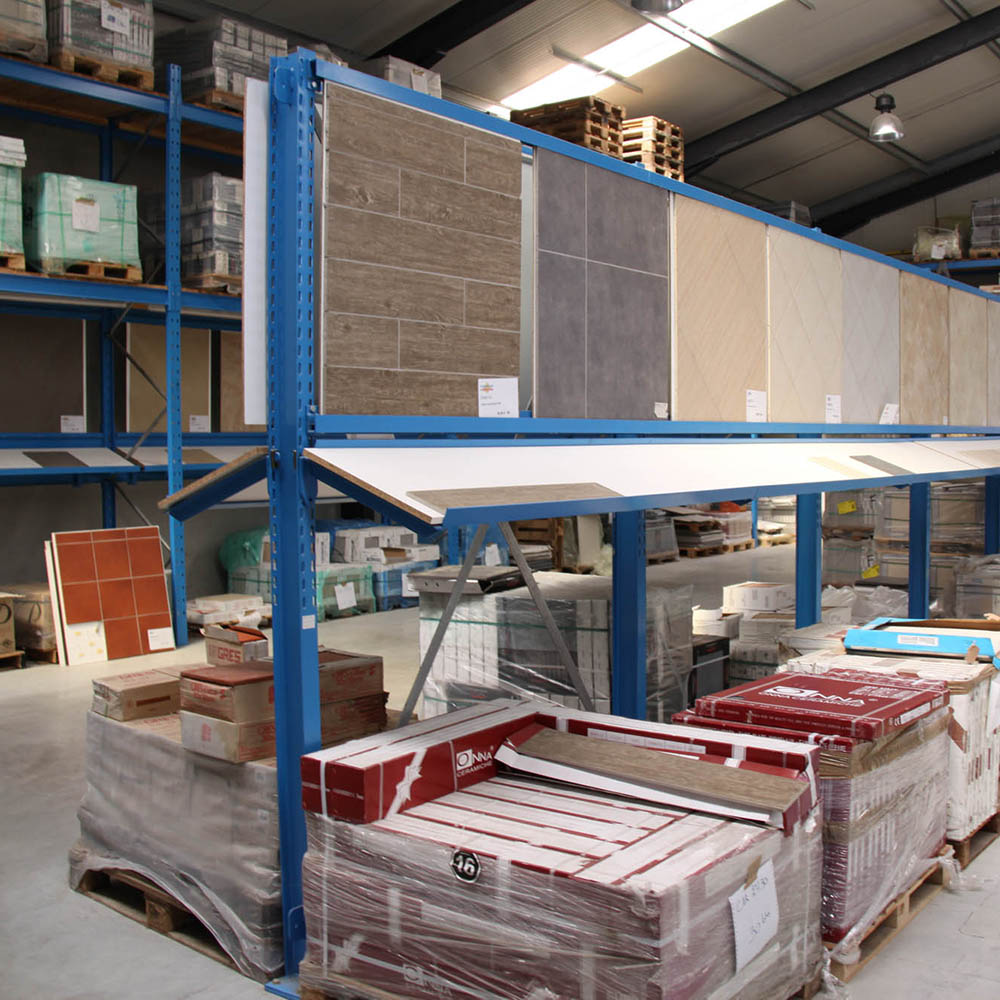 ---
Technical details
Our cantilever rack is manufactured from robust, full-core hot-rolled steel profiles guaranteeing high loading capacity, operational safety and prolonged longevity. Load bearing parts, i.e. columns, bases and arms, are powder coated RAL 5015 as standard, further standard RAL colours are available. Outdoor racks are hot dip galvanized.
Arm Characteristics:
Superior to the conventional bolted arm principle, the OHRA cantilever arms feature a patented boltless slot-in assembly:
The unique arm-to-upright connection allows the arm to move freely in the event of impact, avoiding undue damage to arms, uprights and the materials stored.
The boltless horizontal insertion into the column avoids contact with adjacent storage levels when adjusting arm heights, reducing remodeling and assembly downtime by up to 100%. As opposed to bolted arms, the OHRA arm can be repositioned within seconds.
High-grade forged steel column connectors guarantee a high load bearing capacity.
Full working depth: The OHRA arm design enables a 100% arm depth usage. No bolt head heads can cause damage goods in the case of impact.
OHRA arms can be incline-adjusted with a special leveling bolt if out of line, especially useful for longer arm lengths.
Standard pitch of 100 mm, 50mm pitch is optionally available.
Integrated safety fender/head-guards, for accommodatingn roll-off stops, are a standard feature for all arms.
Column/Base Characteristics:
Base legs supplied with tyre protection as standard (Racking System K60). Columns are punched double-sided as standard.
All columns are bolted to the base, providing several benefits:
a) Optimisation of transport cost
b) Replacement of damaged bases without complete frame
replacement possible
c) Retro conversion from single to double entry possible.
Our racking systems conform to DIN 18800-7, EUROCODE, and FEM 10.2.02.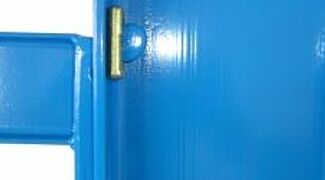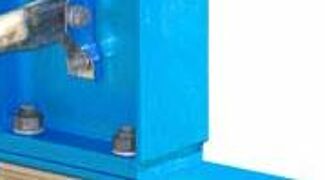 Accessories for the OHRA cantilever racks
Various accessories are available for extended configuration of your OHRA racking. These may be supplied either retrospectively or directly delivered together with your order. These accessories include, grating, anti-rolling protection in heavy and light design, beams, saddle tubes, and many more. See below for a selection of implemented solutions.